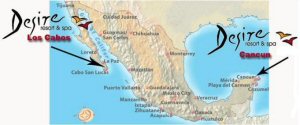 Welcome to Desires' luxury Nude Resort the perfect stay for your nude vacation, we are a couples only and clothing optional adult Hotel Resort, Desire Resorts & Spa, is also all-inclusive and caters to professional and playful adults.

Desire offers couples an opportunity to explore whatever you are searching for, maybe a nude vacation resort, clothing optional environment, or even more adventurious lifestyles adventure all within your comfort level. Desire provides a no pressure caribbean style environment for open-minded adults.

Our All inclusive Nude Resort will deliver to you a special sense of freedom like no other! Renew your spirit, soak up the sun, have fun and let it all go, indulge and be the person you have always wanted to be. The Nude Resort (and clothing optional) is open only to Couples for their lifestyles pleasures. A fineselection of restaurants, lounges, gym and spa, you will find a wide variety of activities, entertainments, land and water sports to enjoy in a nude and adult only ambience.
For a erotic and exotic escape Desire Resorts & Spa Los Cabos, the world's foremost Los Cabos couples only, nude and clothing optional resorts are pleased to announce they have expanded their concept to fabulous Baja California, settling within the hotel zone of San Jose del Cabo.

With a view of the Sea of Cortes, this couples-only, beachfront hotel provides a new venue for exciting adult vacations in Mexico with opportunities for both exploration and entertainment.

Desire Pearl Riviera Maya a couples only clothing optional sanctuary in Puerto Morelos in the famous Riviera Maya, invites you to discover a world of deliciously sensual and lifestyle couples experiences. A exclusively paradise for couples only, this is the right place where you can renew the meaning of passion and make your desires come true, forget inhibitions and enjoy lifestyle adventures that go beyond your senses and inhibitions.

Desire Pearl Resort & Spa Riviera Maya will surround you with the most sensual and adventurous, adult oriented activities and entertainment.

The original Desire Resort all inclusive and for only couples, is located on the Bay of Petempich on the Riviera Maya is just 20 minutes from the hustle and bustle of Cancun yet secluded and private.



With its soft, white sandy beach and its perfectly conceived adult amenities, it is definitely the ultimate couples only clothing optional all inclusive resort in the Cancun area.